Excitement! Will head to El Torro for dinner which is just a mile away.
Sadness - Garage doors frozen shut.
Yeah, while this qualified as a blizzard, it was nothing like the aftermath of the mess in 1978, at least here in Ohio.
I missed a week of school because of the Blizzard of 1978, hooray!
I think it was '78, maybe '77. Listened to Miami-Toledo as the storm moved in that night. I believe Miami won, but was forced by weather to abandon its trip back home and literally spent the night in a jail somewhere off of I-75.
For all the youngsters who are curious.
Same. I remember my dad waking me in the morning, and I asked if school was cancelled that day. His response… "School is cancelled all week."
That was a rough couple days in 1978. I was in grade school. We had just moved from the Columbus suburbs to the boondocks, east of Lancaster, OH. All electric house, and no power, heat, water (electric runs the pump for the well). Fire in the fireplace, and inside the house was still 29. Went to neighbors the next day - blocked off some doorways with blankets, 2 families camped in the room with the fireplace. Temp worked up to 55. I remember making spaghetti over the fire and turning the log carrier on end to bake a pumpkin pie on the hearth. CRAZY!!
Fairly new home on the outskirts of town. Empty fields across from us. The National Guard used the field to stage their equipment used to plow out northwest Ohio. Got our road cleared but driveway had six foot high drifts. My parents home had a drift you could have used to walk onto their roof. Power went off for 24 hours or so. Those were the days. Sleeping bags for the four of us.
I wasn't quite 1, so I don't remember the blizzard of '78. My Mom pregnant with me got locked out of the house during the 1977 Blizzard. She went to a neighbors but my Dad panicked when he came home from work to empty house.
Jan-Feb 1994 was good for SW Ohio, we had 20+ snow days complete with 2 full weeks off of school.
We — and many of our friends—had a baby nine months later. True story.
I was only 12, so there were no babies nine months later. We lived in the country on a small county road. We never lost power, but we lost phone service. We couldn't go anywhere because there were 6-7 ft high snow drifts at both ends of our road. The blizzard hit on a Wednesday and it was Sunday or Monday before the county was able to get a snow plow out to clear the road. The entire state of Ohio was hit hard and paralyzed, but no one resorted to cannibalism IRCC.
We live in West Michigan near Holland and Grand Rapids, but came to Toledo to visit family for the holiday. We left Thursday afternoon and stayed ahead of the weather. But according to my wife's friend, we got a couple feet back home waiting for us. She took a picture of her kids in the snow and it was nearly as tall as them. Ha! It was crazy Thursday night because my dad had the Weather Channel on when we got here, and there was a guy standing by the lakeshore filming live from Holland, Michigan. You know it's bad when the national weather shows are filming from your town.
Anyway, we're heading home later today. My neighbor has a John Deere with a plow, and I'm hoping he did our driveway. He usually does whenever we get a big one. But if he didn't, I'll be in trouble when we get home this evening.
Well, we made it home all right. Got a little dicey the last 70 miles or so though. And I was able to pull into the garage because my awesome neighbor Kevin plowed the driveway while we were gone. I'm buying that man a steak dinner this week.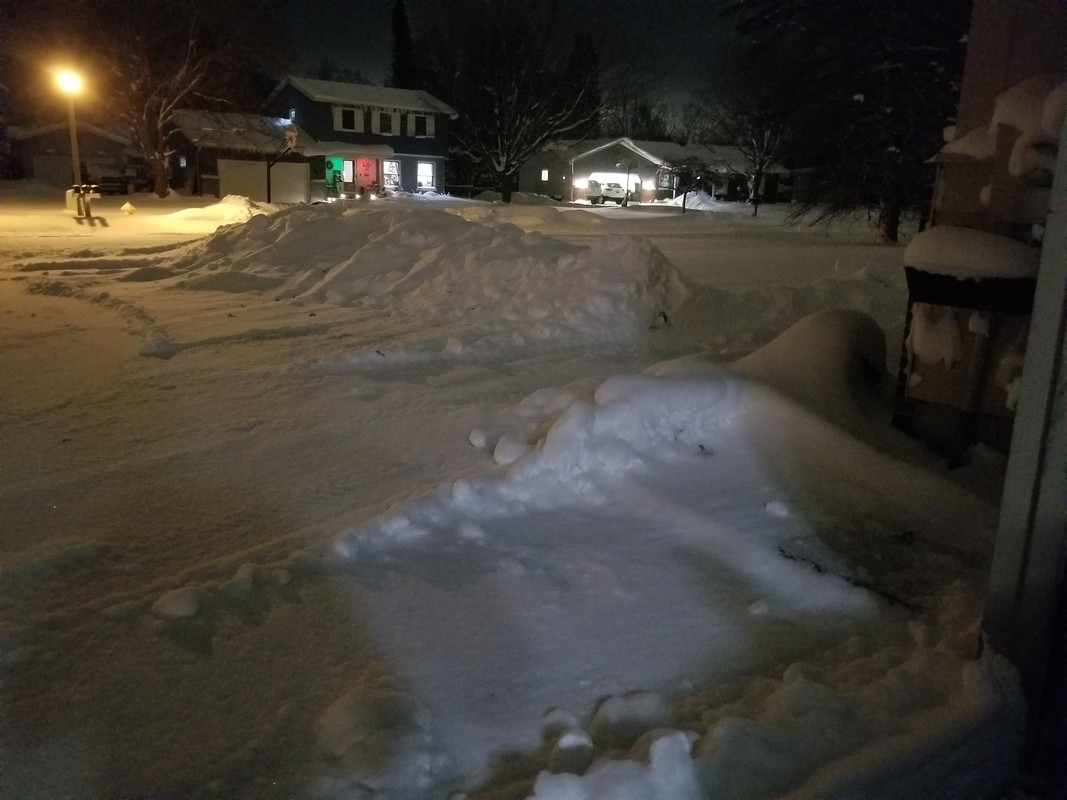 That's some serious snow.
The Weather Channel covered a 30 car pileup on I94 on Friday. The guy was standing within a couple miles of the house. The local Facebook group was laughing at how he was saying the name of the town.
Almost 50° today with sunny skies. Glad I didn't risk frostbite with the -30° windchill over the weekend trying to clean the driveway and sidewalk.
Talking 60°+ this weekend. Break out the shorts!
Played back yard football day after blizzard of 78. Still windy and cold. Fun time.
3-5 inches (snow, that is) expected in the Springboro area. As always, Dayton and above expecting more.
I'm curious if rain will wash snow off driveway in the afternoon. Will save some shoveling.