Nice little article about Jack's chances with the Bengals.
Nice article about Dom. Looks like the Bears are highly committed to helping him reach his potential.
For the love of Christ fucks sake. University of Miami (Ohio) from a reporter who covers a team 45 minutes away
Glad Jack is getting some cover but jeeeeeebusssss
The "author" lives in Missouri and has no business covering the Bengals.
May the Lord's name be praised.
Cedric Boswell is getting some playing time in the 2nd half for the Lions in tonight's preseason game, and he's made a couple of nice plays so far, including a big 3rd down pass breakup to force the punt. He had a great senior year last season and parlayed it into becoming an undrafted free agent pickup for the Lions. He's making the most of his opportunity so far.
Unfortunately gave up the game winning TD pass
Jack Sorenson with two catches tonight.
With Jamarr Chase out there as a big play threat there's definitely room on the Bengals roster for a great possession slot guy to gobble up a ton of short yardage receptions. Hopefully it's Jack.
As the NFL camps open, there are 97 former MAC players on the rosters. It will be interesting to see how many remain in early September.
Mike Brown is with the Vikings and Nate Becker is now with the Panthers.
Was hoping for a Plitt to Sorenson…oh well…but Jack seem to do well out there…two catches and in on special teams.
You gotta be old to catch this one but Boswell is wearing Alvin Hall's number.
I'm old.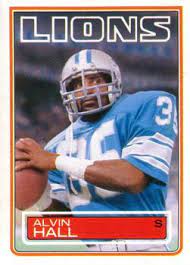 Jack didn't look great against the cardinals. Facing a huge uphill battle to make the bengals i fear
I see him as someone Belichek could use - in the mold of Wes Welker and Julian Edelman. Would not be surprised to see him end up on the Patriots practice squad in September.
The box score showed SW with 3 tackles, 3 assisted tackles and one INT…all-in-all, a great day's work…I'm sure he wasn't in for more than 40 snaps.
I would say he seemed ok…not bad.
1st shot in NFL…two catches…no drops (at least don't think he had any) the first bobbled a bit, the next one was a designed play he looked good in execution but the play was read by D, not on him.
I'd say he looked to have some nerves, but was in on special teams a lot…not sure how he did there.