Ah…OK. Hope both of them have a big game next weekend. Certainly understand his frustration.
Yeah. I'd be pissed if I was GP….
I was referring to his lack of targets. I did not see the meme. Can you post or send me a pm?
In the words of the late, great, inimitable Bob Prince, we had 'em all the way.
Thankfully, fourth quarter Kenny Pickett played in the first quarter today.
Lots of injuries to deal with on defense though.
They might have to trade for a lb, instead of relying on a FA or practice squad-pickup.
Love's downfield throws yesterday were money. I misss having an offense like that….
The worst.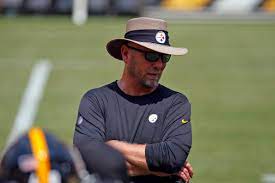 This team is a fraud. Today showed that. Offense is bad. And the defense didn't come through on the last drive like they had through most of the game.
Even a blind squirrel finds a nut occasionally. It happens.
True even when you are playing without your starting QB, at least one starting lineman and your top running back ! If the Browns ' D keeps playing like they are at present they may be involved in the playoff picture. The Steelers- who knows!
lol….the defense bears 0 blame for this loss. Mike Tomlin, Matt Canada and KP are to blame
Let's put the blame where it belongs. Kenny Pickett sucks.
Once you fire Pickett which of the proven losers on the bench would you replace him with?
Pickett has been underwhelming (most games), but he'll be the starter in 2024. With a revamped offense, strong defense, and a few FA signings…It could be a big year.
As for 2023…Beat the Bengals and the playoffs are a very strong possibility.