Go figure! Ben doesn't even get an honorable mention, nor does All American linebacker Bob Babich.
My beef was "where's golf?" Also nothing against the tennis player they picked, but there are way more deserving candidates on the women's (and men's) side. Oh well. These things are just for fun. Good on the writer for generating discussion.
Mentioning Bob Schul was a classy move but a couple other choices seem rather questionable vs. other candidates.
P.S.where's Wally?
Oooooo, a list of Miami greats with Ben and Wally. Compelling!
Forgot about Schultz's gem.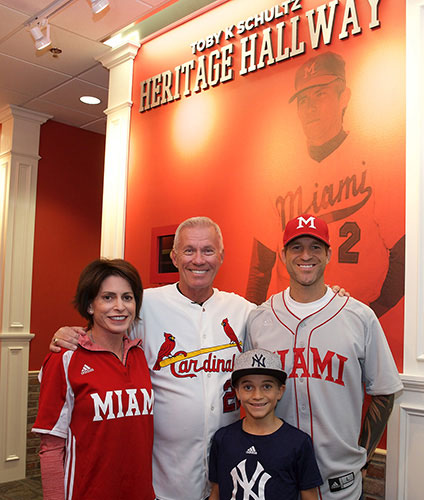 Interesting article. Some glaring omissions as mentioned above. Also, womens basketball wasn't mentioned.
These types of lists aren't meant to be definitive. They're debate starters, or argument starters if you prefer. They also tend to have a "recency" bias.
It could really use an editor.
Travis Prentice receiving yards?
Skating world champions?
How about everyone relaxes a bit. Jack has been doing an incredible job and is 10x better than any student athletics writer we've had in the last decade. The athletes selected were absolutely dominating in their sport. Prentice set ncaa records. Others went to the Olympics and were only four time first team selections, etc. Sure he could have cherry picked and thought of just some more recent ones, but he went back and did sports that may not get attention. Says stay tuned for top 50, so maybe you'll see your favorites there. If you're still mad, it's basically an op-Ed piece so grow up and worry about more important things.
Paul Brown, Weeb Ewbank, Walter Smokey Alston, Wally, Big Ben, Ara, Dan Boyle, Brian Savage. Just a few
Were the Stanley Cup winners from Miami mentioned?
There are several.
The piece says it's only focusing on college accomplishments for ranking purposes
I think you overreacted just a wee bit maybe. Nobody is attacking the writer, just questioning how a few superstars during their Miami years weren't even accorded honorable mention.
I find it hard to argue with the people the author chose, at least in terms of their college accomplishments. A swimmer who won 17 individual MAC titles and was conference swimmer of the year four times? The only tennis player in MAC history to win four conference singles titles in a row? A track national champion who's one of only 15 women ever to run the 800 in less than 2:01? I suppose you can say Ben or Wally or whomever should be there, but it's not clear to me who they should be bumping for Ben or Wally.
EDIT: that said, honorable mention doesn't cost anyone anything.
Clown article indeed. Greatest football player in Miami's history and 2nd best basketball player in Miami's history are both excluded. The real list:
Ron Harper
Ben Roethlisberger
Wally Szczerbiak
Plenty to select from
Plenty to select from
I'm sure we've had elite synchronized skaters to win so many national championships, but I can't name one. Nor can I name a single swimmer, diver or golfer.
Well, we had a diver finish 2nd in the country a few years ago. Yep. 2nd at the NCAA's. Bob Lohr was a PGA tour player who won a couple events and played in all the majors (I think he actually finished top ten in one. Many great baseball players from back in the day. Too many good hockey to list.
Why is Ben the best football player at Miami, assuming that's who you feel was omitted. Prentice broke ncaa records while at Miami. Sure Ben went on to have the best professional career, but that's not what the article is.