A billion dollars just for a new basketball arena? Seems like over kill to me, but I'm sure it'll be sweet. Happy to chip in my $100.
Does the new basketball arena fall under the Business and Entrepreneurship or the Digital Innovation and Technology umbrella?


Someone be watching too much Austin Powers. What's next? Sharks with frickin' laser beams on them to blast the mean swans on Western Campus?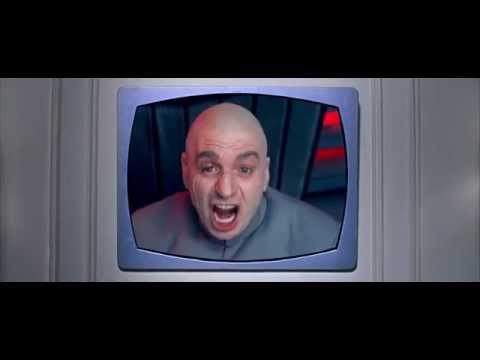 A billion shouldn't be a problem, should it? Didn't we just see a report that showed more than 2,200 Miami alums are worth more than $30 million?
Evidently none of them are Miami basketball fans.
Hit them up for an average of $20,000 and there's $44,000,000 for a new sport/activities center. Find a few who will give a big pop to get things started and/or find a couple to throw in a few more million to the project…
I know. I was dreaming. But if I hit the Lotto, our troubles are over. Unfortunately, the odds are 292,000,000 to one. Slim.
The general rule on large capital campaigns like this is that you should have one-half of the goal in commitments before you announce the campaign publicly.
If that is the case here, we have $500 million pledged already. I hope that is the case.
Miami is better than 54% of the way to the end…the last 25% will be very, very tough sledding with the economy in the tank. (I'm assuming they will get to 75% in about 2-3 years…so I know the math).
I never took Econ-what qualifies as "in the tank"?
Dr. Evil is our director of annual giving now it seems. [Insert upside down pinky].
Is this announcing the intention of raising an additional $1 billion or is the goal the push the current amount in the endowment (approx. $650 million) over the $1 billion threshold? I hope it's the former.
The goal is to raise a total of $1 billion dollars. The current endowment is irrelevant.
Update: Miami is 57% of the way there as of early September. 43% to go…The last 25% is always the toughest to get as all of the low-hanging fruit has been plucked…plus the economy and falling stock prices makes this more challenging.
The "for those who will" part of the tag is interesting. I think it's aimed at boomer alums and is a subliminal
call to make Miami a beneficiary in their wills. As a boomer, that's how I read the messaging.
I named Miami as a beneficiary in my will several years ago, and I'm a Gen X-er.
I don't think they get it - successful athletic programs always improve academic standing. There are countless examples of that. It's never the other way around.
@southerskin Miami of Florida's football teams had so much success they brought hundreds of millions of dollars to Coral Gables. That money was invested in academic facilities and programs and shot Miami's academic reputation through the roof compared to where it had traditionally been.
There is a reason that schools such as Florida Atlantic, Charlotte, Liberty, James Madison, App State etc. worked hard to get into FBS. If you look at the last 25 years there have been many, many schools that moved from FCS to FBS. The only one that I know of that moved down was Idaho in 2018 and it had been FCS until 1997 and never could find a success or a good conference affiliation in FBS.
The reason is the one you cite. It is easier to raise money when your brand is associated with the big leagues.