Who's in? I'm 68.4 percent sure I'm in, besides Alex owes me 4 beers from last year's bowl game.
Waiting on the band info and I need to check with work but I would say 63%
And Alex is only 68.4% trustable!
oops… Did I say that!.. nah. you have nothing to worry about, Koehler will buy you a beer if so.
I don't trust Koehler to call a game. Why should I trust him to buy me a beer?
Let me know who I need to Venmo to cover a round at the bar for you guys.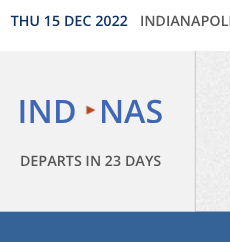 I've got a return flight booked, waiting on a thing or two to buy that flight there. Hope they release room rates soon as well
Probably Redsea since he's a CPA.
It was 2015, but I remember Dr. Lytle of the MUMB saying that if we got a Bahamas Bowl bid at that time (somewhat laughable at the time) that we'd send a scaled down band that prioritized seniors and those who played vital instruments like low brass/drumline. Hope they get to go, that'd be a neat way to cap off the band careers for those who went to Mobile their freshman year.
I'm guessing we might be playing UAB if they win Saturday and get to 6-6. Lose and they're ineligible.
$576 RT from MYR but I'll still be rehabbing from the hip replacement. Four long flights in coach are not on the PT schedule. Obviously, I was hoping for Myrtle Beach. Maybe next year.
Have been to Nasssu three times and enjoyed it. Senor Frogs by the wharf is epic. Stay safe (out of the sketchy neighborhoods) and you'll have fun.
I like UAB as possible opponent…very winnable game for us w a 6-6 C-USA squad.
I'd like to see Rice or UTEP just because both are totally out of our footprint. Both have tough lifts just to become eligible this Saturday.
Miami U and tequila drive me crazy. We will not be attending. My wife's health is not at its best right now and we decided it would be best to stay close to home.
If Florida Atlantic beats WKU I think they might another possibility
My son is a FAU Grad, so that would be fun for us. Happy Thanksgiving all.
If Rice loses to North Texas and finishes 5-7, they will get into a bowl based on APR if less than 82 teams qualify.
Not sure why the Brett topic was locked, Brett himself has announced it…It's fine, AV(S) can improve and we have some great QB prospects on the roster.