Softball tournament selection show is at 7E/4P on ESPN2. Where will they send Miami?
GCU as a 4 seed is huge for our chances of getting a 3.
Bummed we won't be in LA. Hopefully there's like a Fullerton regional or something.
I'd be cool if they sent us to Durham.
Northwestern (12)
Kentucky
Miami
EIU
Kentucky beat us 15-1 in the opener to last season's tournament. Northwestern eliminated us from the tournament the year before. Chance to get some revenge.
Overall not a bad draw at all. Relatively close to home in a huge alumni support nest. Avoided a long flight and a sweltering swamp like Baton Rouge. Our key will be shut down pitching by Briana Pratt. As a senior, this is her final chance to be dominant. It would be an opportune time for her to show a real mean streak in the circle!
We own Northwestern in football. Let's get 'em. (Are these draws intentionally geographical?)
Somewhat…but not universally. The Austin Region has Texas, Texas State and Texas A&M plus Seton Hall. UCLA hosts two California teams and Liberty.
The most non-geographical region is Baton Rouge - LSU hosting Harvard, Notre Dame and Oregon. What a cultural potpourri that one is!
No issues with travel costs for those 3.
Somebody on the UK Facebook page doesn't like us! Bounce their check, RedHawks!
"I'm so glad UK and NKU are not in the same regional. I'm watching the local Cincinnati/Northern Kentucky news and the Miami University team is talking smack. Hope you all run rule them in Game 1.



"
Wait…they really wrote "the local Cincinnati/Northern Kentucky news"?

Yep. And then said you all instead of y'all. The horror!
Game 1 vs UK at 1pm EDT Friday on SEC Network and ESPN+
Back in the day, Florence Kentucky used to have a billboard that you would drive by exiting that said something like "Now leaving Florence Kentucky. Y'all come back now, ya hear!"
#hillbillyhandiwork
Yeah IIRC, that sign was on the water tower next to the mall. One of my brothers and his family lived in nearby Union, KY for a number of years, and yes, both his kids went to UK.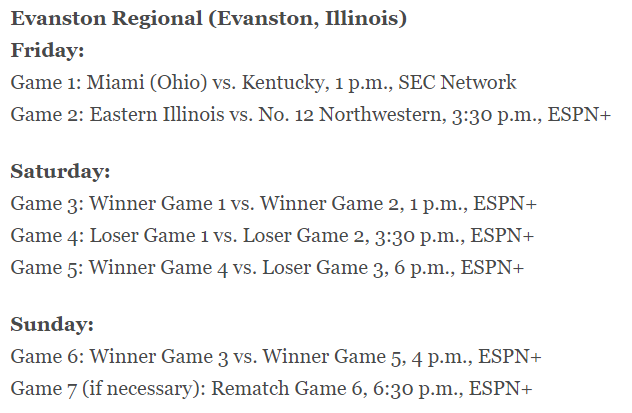 Are those times EDT or CDT?