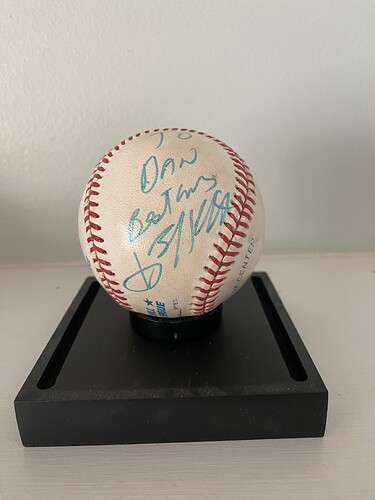 From our conversation backstage in Seattle when I gave him a Mariners team ball and hat and we talked baseball and Come Monday.
Saw Buffet a long time ago at Riverbend in Cincinnati…loved his performance…sat one row behind Chris Collinsworth.
I am a second year Parrot Head from the 1986 concert at Timberwolf at Kings Island.
Between Timberwolf and Riverbend, I have seen Jimmy about 25 times, including 3 nights in a row in the early 90s when they recorded about 40 percent of the live double album in Cincinnati.
Rest in peace ol' rum runner
I was a student then, but have no memory of this appearance. My wife and I saw him at Merriweather Post Pavilion in Maryland 20 or more years ago. It was a great show. Even then, we joked that we were the youngest people there, and the only sober ones!
March 28,1982 in St. Petersburg is the one and only time I saw him. What a fun show. The guy just loved life. RIP🙏🏻
Saw him for first time and final show in Riverbend. You know he's done some of those songs 100,00 times and he still does them and makes them fun! What a blast.
Our kiddies have taken up entertainment for mom and dad for my b/day, Christmas and Father's Day gifts. I get season tics and parking pass to Miami games with a seat on the 50 that would cut me in half if it extended up into the stands. They got us the Jimmy tics along with Doobie Brothers there at Riverbend last summer. This year it's a combined gift for a three holidays. They got us tics to see The Boss in C/Bus Sept 21st. Bucket list stuff and lots of fun memories.
Like Cincy, Eddie, Dick and I think a few more around here I'm a child of the 70's.
I became a Parrothead back in 1978…my sophomore year in high school. My best friend's sister attended the University of Florida and brought back some Buffett albums from college. My buddy and I got hooked! Since then, I've seen Jimmy at least 30 times, including a stretch of 16 years in a row, in venues all across North America - Oxford, Cincinnati (both Kings Island & Riverbend), Chicago, Dallas, Mountain View (CA), Toronto, NYC, and Alpine Valley, WI. In fact, one year when I lived in Dallas, I was the single largest purchaser of Buffett tickets in the DFW area (110 tickets for friends and friends of friends). I got to see him one last time back in Aug. 2022 @ Alpine Valley in what ended up being the final stop in his last tour. As someone mentioned earlier, he still knew how to entertain a crowd and put on a helluva show! I admit I openly wept upon hearing of his passing…not so much because he was no longer with us, but because it made me think of all the wonderful times I've had with so many fantastic people either at one of his concerts or just listening to his music. RIP, Jimmy! You definitely "grew older, but not up"…and my life is better off because of it.