Good man. Not afraid to go against the grain…
I normally don't speak ill of the dead but Jim had a little problem with keeping his hands off of women he was in a relationship with.
Not exactly "good".
I always thought of him as the "goat". I may be prejudiced because I grew up watching the Browns every Sunday.
One of the models by which all NFL running backs are judged. I say "one of" because every great running back had their own way of making plays. From Walter Payton to Barry Sanders.
Emmitt Smith was tough but he had one of the greatest offensive lines to ever run behind and amazing wide receivers and Jay Novachek to make the plays
The rivalry between Brown and Sam Huff was legendary!
Watched every Sunday in S.Ohio. There were no Bengals back then.
The Browns were " It",State wide and beyond.
He would have been dominant in any era. I think it's always hard to compare the greatest of all time. However, it's hard not to give that title to Jim Brown.
He played in an era where good backs ran over people and he did it frequently. Watching him limp back to the huddle like he was crippled after a punishing 9 yard run only to run for 7 on the very next play was virtually his calling card.
I listened to a very interesting tribute to Jim Brown on ESPN radio while driving home from Nevada. He's was 6-2 and 232 pounds. In those days, the average NFL defensive line man was 6-3 242 pounds. He would run over them or around them and it always took a bunch of tacklers to bring him down. He averaged 104 yards rushing per game, which is the NFL record.He is the only guy to average over 100 yards and only Barry Sanders is within 10 yards of him…when he started playing in the early 50's there were still very few black guys in the NFL and he was called every name in the book and also was physically abused in the pile after being tackled. He did not talk about it but made a point of running over certain guys in retaliation.
There was a famous rivalry between a white LB from West Virginia named Sam Huff who played for the Giants and shot his mouth off about what he was going to do to Brown. I would say Jim probably won the battle but Huff had some good moments.
The rivalry between the two was intense, as I mentioned earlier, and very physical. And there was definitely a racial overtone to it - all the way up into the mid-60s when both of them were done. There might have been some reconciliation later - especially when money was on the line. Huff was no dummy and neither was Brown. Both made a considerable amount of money after football.
Check this out from 1982.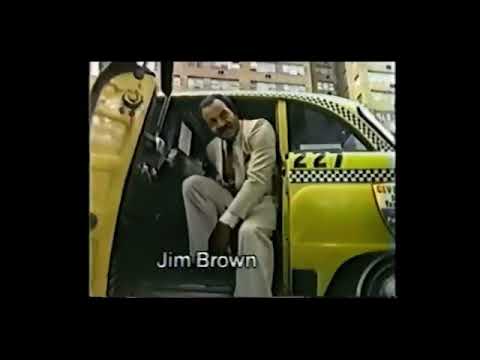 Against the Browns Huff always keyed on Jim Brown. Here's a quote by Huff from an article published after the first game the two played against each other:
"We knew Brown carried the ball about a third of the time for Cleveland. Since most teams have the ball for around 70 plays on offense, that meant that Brown would carry 20 or 25 times. By sticking with him, I was in front of the play most of the afternoon. On the long run he made for a touchdown, I had shifted to the other side. That was a tough assignment, covering Brown. When you hit that guy, he lunges like a bull and sometimes he lunges right out of the tackle."
Erik Dickerson. Prolly better. But JB set the bar. Long live JB.