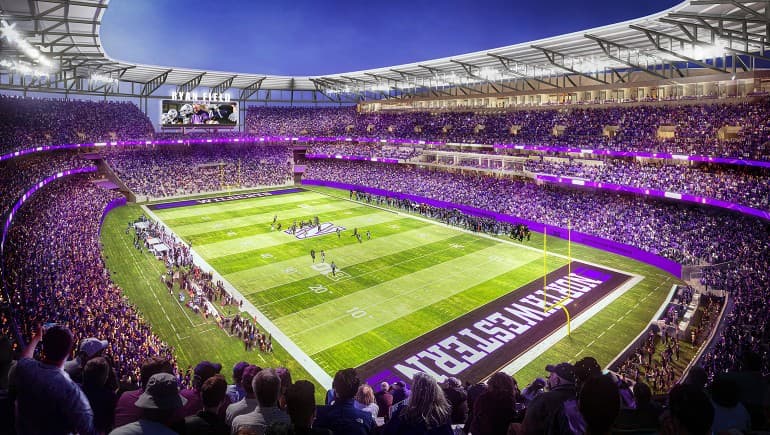 35K seating…Miami really is Chicago's MAC team!

PS Looks cool…sort of MLS stadium meets new Ivy League football stadium.
Weird timing on the announcement
Why don't they make it more seats? Afraid it will look empty on game day? Seems to me they leave money on the table if say OSU comes to town and has a huge alumni base who wants to attend. Confusing.
Well I guess Northwestern was so embarassed to lose to us that they wanted to tear down all reminders of losing an OOC game to Chuck.
Yeah seems a bit odd building something new with less capacity than Nippert.
The design does not look expandable either…but you know tons of research goes into this…and thats their number, I suppose.
Thankfully, you know more than I do. I'm continually baffled by the state of everything.
Makes me think UC in the Big 12 is not that odd…when Northwestern is in same conference with Buckeyes (very different academic model/student body/athletic support).
Here's the thing…think they are a founding member of B10…odd where we are now in CFB.
Seems like Duke, Vandy, Rice, Standford, BC?, Rice, etc…should all realign, grab Northwestern.
If I had to guess, they crunched the numbers and figure that even when NU football is really good they have a very limited ceiling for fan support - as such they're limiting capacity and focusing on premium seating areas to drive revenue and create a better home environment than currently, especially if it means keeping an extra 12K visiting fans out of the stadium on gameday to keep it from feeling like an OSU road game.
The trend in college football is towards smaller crowds. Attendance is down almost everywhere. Most teams no longer come close to filling their stadiums outside a handful in the SEC and Big 10. Rice is considering building a smaller on-campus stadium, so is UCLA. San Diego State left the now defunct Chargers stadium and build a modest size state-of the art on-campus stadium. South Alabama left big old Ladd Peebles and built a compact new stadium on campus. Charlotte's new yard only seats 15,000 but can be expanded if need be - like Coastal Carolina''s Brooks Stadium.Many schools - including Miami - have modernized and/or upgraded their stadiums while reducing the number of seats. San Jose state is remodeling smaller right now. I think Duke did that recently, too. It's no longer about building a Big House on campus…
Interesting insight and appreciated.
Good info. Much appreciated
47,130 seats currently in Ryan Field (RF). Minus 12,000 seats in new RF. Total new seats in new RF 35,130.
The pics make the new RF look much larger…but who knows how it will eventually shake down.
Selling the program on fewer seats and easier parking is not a great way to position NW.
That would be a good conference affiliation for Miami to aspire to.
Seems like Miami could have built a smaller stadium.
We've downsized ourseleves, first by taking down the temp stands and replacing them with the current east side, then taking out the north bleachers that were hardly used for Gunlock/DISC.
I hope Miami jumps on the premium seating train soon. I think there would be a lot of interest in club seats with some amenities.
Yeah at one time, Miami stuffed temp bleachers in the corners to get capacity to 30K…that's the way the stadium looked in Big Ben's day. It was all about the silly and constantly changing NCAA rules on stadium capacity and attendance rules to maintain then 1A status.
You were required to maintain either a yearly home attendance of 17,000 if stadium was smaller than 30K, or once every 4 years if your stadium seated 30K. As a result, smaller schools like those in the MAC put in needless seats…the rules were changed later to 15K but no stadium capacity requirements.
Those were some silly times. If I recall correctly, the NCAA reclassified us as 1AA for one season based on a failed attendance number. I don't think Miami officially accepted that.
That is correct, Nescacdad. It was the 1982 season as I recall…I went to the HC game that year vs. BG and we were both ranked in top 5-10 of the IAA rankings…no MAC school recognized those rankings and refused to participate in the post season IAA playoffs.
Miami started out hot that year (5-0), beating BG in the process, and then lost to UC on TBS (national broadcast) in a game played at Riverfront and limped in with something like a 7-4 final record.
The next year MAC IA status was restored.
P.S. one more memory of that BG game in 82 (which I believe we won 17-12): it was HC, and I was in from Denver where I lived then.
The game was broadcasted regionally on CBS and Dave Diles (a MAC school graduate) was on play by play. This was before the lawsuit that broke up the NCAA's total control of TV broadcasting…back then the MAC would occasionally get a regional broadcast game on the tube on a Saturday.
Anyway, for some reason, CBS selected my fraternity to gather on the front porch and yell "Welcome to Miami's homecoming", which they used when they started the broadcast.