According to 247 Sports…Modern Day.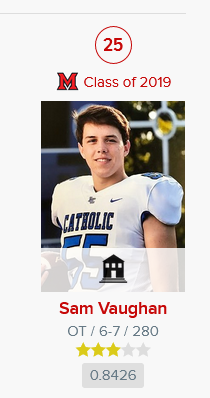 You can also click on the link below…If your liver gives you permission.
I will never give up on Clay Belton. STUD!
Clay Belton, theres a name from the past.
Still no idea what happened to Kendrell. Disappeared. Local sportswriter and his coach have no clue either.
Proving that the recruiting rankings don't always work when projecting future value… Brooks was a 3-star guy and ended up being one of the best guards (if not THE best guard) in the NFL during his peak.
And I want to say Ben was a 2-star QB. He may have managed to reach 3 stars by the end, I don't remember.
And yet McFadden is our all-time "best" recruit.
The ratings will be jumbled at the top for transfers. Maddox Kopp was a .8670; Rashod Amos was a .8590; John Young, the OT, was a four star .8904; Jayden Williams from USC was a .8464. Could not find ratings for the ND and SLU transfers. Somebody really liked a couple of these guys. Hope they first, show up and second, produce.
Ben also received a call from then HC Earl Bruce with an offer late. That alone should have made him at least a mid four star.
Curious who Earle Bruce called with an offer from since he quit coaching college football in 1992
Belton and Bahl are two names I try to forget.
I believe it was Dwain Williams.
Dwain Williams is a college?
I think you mean John Cooper if you're talking about OSU. Possibly Tressel. I heard he was offered as a tight end but wanted to play QB and only MU let him do that.
Dwain Williams is all colleges
i also heard that ben was supposed to room with some LB recruit from massillon…
Oops! that's what I get from a fading memory, a lack of knowledge of OSU football history, and the lack of incentive to bother to google it to confirm the coach. Sorry.
It was Cooper.
He couldn't beat Michigan. And he wanted Ben to play TE.
Build him a statue, Columbus.
Ben was a HUGE recruit for Miami not some under the radar guy. When he committed there was a big article in the Cincy Enquirer. He had already been in "faces in the crowd for sports illustrated". It was over Duke and Ohio State but he was certainly a huge deal.