Instead of making all those little fish, Goldfish should make a version with just one giant gold fish. Big fish if you will. Will you?
Buffalo wing or spicy cheez-its
prunes…hey, i'm getting old…
Cheez-Its and Goldfish for sure
Bruno's or Bang's - SDS if I came into some $
Listen, I'm not telling anyone how to do their job, but given I'm fatter than The Blues Traveller, I have some knowledge. Get an air fryer and some frozen Tyson wings. Avoid the flavored ones as the sauces or whatever they put on it cooks too damn hot and turns the wing into charcoal. Plain wings. Cook that shit c-o-r-r-e-c-t. High. 12 minute. Possibly twice if you like your wings crispy A.F. Then, get some ranch and you're set. Dunk it all you like. It gets better and better.
Low carb. Slice an apple into many small sections. Open a jar of peanut butter, grab a knife and put a little peanut butter on each slice before you pop it into your mouth.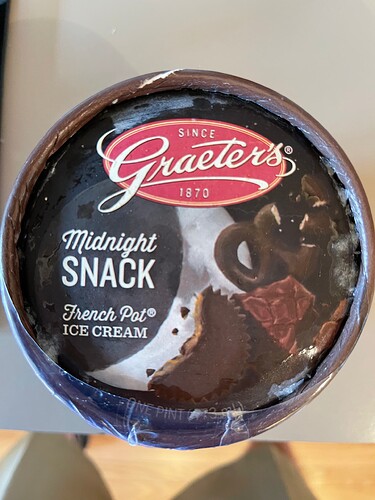 This has been my "go-to" during the summer months! Malt ice cream with chocolate covered pretzels, brownies, and peanut butter cups
I used to play tennis with Kathy Graeter. When you were a kid she was hell to play. All slice off both slides. Tough on clay. After about age 13 you could hit her off the court. Great lady anc still the best ice cream I've ever had.
I got a new add here: Andy Capp's hot fries. So fantastic.
One of those snacks so good with a cold beer.
Hot fries were randomly a huge deal when I was in Jr. High. Everyone had to have them at lunch. Don't think I've had them since, but they were good.