Love our freshman guards!!
Cooper is such a fantastic defender. His defensive stance and lateral quickness are terrific. Morris is playing clever, avoiding silly PFs. Dean and Mabrey can be good role players (3-pt shooters). Overall, great win. This team is only getting better.
We should also prepare Elmer better. Rest Bultman more and give Elmer more minutes at #4.
Wow, Lamont Hanna, now that's a name out of the past!
He completely shut down their leading scorer while giving up 3+ inches. The second timeout was because he dragged his defender to the corner to free Ipsaro and Ipsaro threw it to him in no man's land. He generates more fouls than anyone on the team. And a lot of the offense runs through him. He showed what he could do Friday. He's being productive in more ways than scoring while adjusting to the speed difference.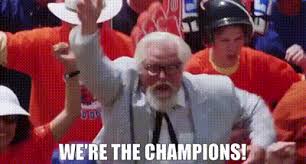 It's because there is very little depth in the front court right now. 4 guys that could lighten the minutes load for Bultman are not available (Safford gone, Lewis/Mirambeaux/Potter not dressed). So unless you want to go heavy with Elmer, or very small with Mabrey or Dean, Bultman has to play. Didn't shoot it as well today, but he's active and made some big FTs down the stretch. I wouldn't give up on him yet by any means, he's just having to carry a much bigger load than anticipated.
I thought he was better today than the first two games, not as good as he was against Coppin St. He seemed to be forcing things today, that he would have been better off not doing. That said, he does get to the line, and made some hustle plays, so on the whole, I liked his game today. Bultman that is.
Just looked up the advanced stats from the first three games. There service I use will update overnight for today's game. It's pretty clear though - the team is much better with him on the court than not.
I'll post them after the update. Other observations:
Ipsaro might be the most impactful player on the team. Our turnover percentage drops 14% while he's on the court, wild for a freshman guard.
Mabrey has not been good enough.
Aside from Ipsaro, Hunter, Bultman (all positive), and Mabrey (negative), everyone else is pretty bunched up as far as on/off impact goes.
Ipsaro is a real PG. Tough, in control, sees the game. He's a very good basketball player.
I really like Ipsaro. The kid has grit, determination, and plays with a chip on his shoulder. I haven't seen this level of edginess in a Miami player in a long time…Derrick Cross and Danny Horace level of tenacity. I'll take that all day long, even if the Ws are few and far between right now.
Disagree re the Beard-Morris comparison at this time. Kevin was cool, calm, and collected. Morris still flails around quite a bit. That's why when Beard had the breakaway dunk during the game against Arizona to seal the win was so incredible…it was so out of character for him.
I'll echo some of what's already been said after going back and watching it tonight. The difference in the game was the first 10 minutes. We came out ready to play and settled into the game quickly while they didn't. They were overly aggressive on defense and it cost them. And we did a good job of making them pay, shooting 31/39 from the foul line. We attempted 41 field goals and 39 free throws. You won't see many games where one team's gap between the two is so small.
Cooper had his best game, especially early on. When Ipsaro's not out there, our offense suffers. The only disadvantage of running our offense is that if you're not getting any dribble penetration, you start throwing it around the perimeter and the offense stagnates. I get nervous when Dean, Bultman, and Mabrey are out there at the same time, at both ends. Overall, it was another good game for Bultman, but is his game going to work when we play the top half of the MAC? I was happy to see Dean play his best game thus far. It's weird, we have 4 2s: Ipsaro and Cooper are combo guards, Dean and Mabrey are more 2s than 1s. But we have undersized 4s, which is hurting us on the boards. I know we're a little less defined as far as positions go, but because we have a bunch of similarly sized wings, Hunter and Elmer need to board hard as the best athletes on the team. The same applies for Kotecki. That's what almost cost us the game today, which made the switch over to zone at times mind-boggling because we still don't play it right and it's even harder to rebound when playing zone defense.
I like how we shoot and share the ball offensively. If we can take better care of the ball, we can take advantage of those strengths even more. This was a good weekend that hopefully translates into a good week of practice before a really tough stretch.
Here are the updated on/off stats I mentioned yesterday. Top table is on/off difference, bottom is raw on-court team stats.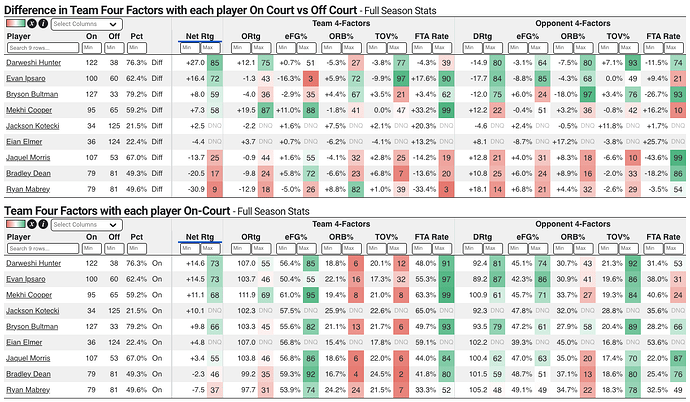 Observations:
I mentioned Bultman's defense and it's pretty apparent. Also, an 18% difference in opponent offensive rebounding percentage when he's on the court is very significant
Dean is slowly working his way back. I think both D2 guys have shown they're adapting to the speed game by game. Dean was overmatched in the first two games. Coming off the bench, he's done much better but it'll take a bit for his numbers to show it
Mabrey has not been good enough.
Cooper has adjusted well game-by-game. IMO, he was pretty invisible the first two games. Since moving to a starting role, he's been a difference-maker.
Steele talked a lot about Ipsaro. The numbers back up the eye test for sure.
As always, the numbers need context, and I think Morris is a bit of a victim of some people around him. IMO, he's a solid rebounder, but the numbers don't back that. From watching games, it seems like that's because he's having to help out and that leaves nobody boxing out the center. Dean actually did a solid job of rotating down yesterday. I think as the team meshes, we'll see more improvement.
So many turnovers. This offense is one that requires a multiple people to read the defense the same way. I hoping to see improvements in that as the season goes on.
Eastern Illinois trailing Kansas by a point with 5 min to go.