Unbelievable. Got up after the tackle. Hope he is OK.
Allegedly, he has a pulse, but is not spontaneously breathing.
The game has been suspended until I assume Hamlin is hopefully stable at the hospital.
The game will not be resumed tonight. Perhaps later this week. Perhaps not at all.
(Updated)
This is so scary. He was taken to UCMC. My wife works there, but she's home, and obviously couldn't provide an update on his condition even if she were at work.
Perhaps…Pretty good news from his Marketing Rep.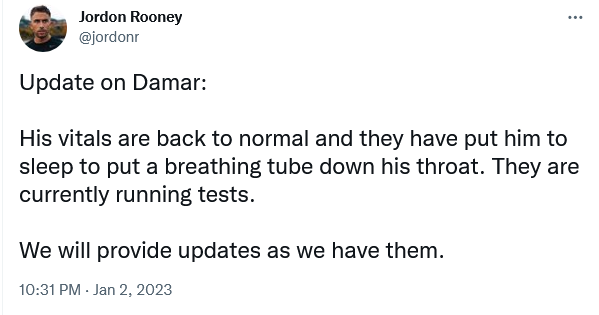 Sorry for my earlier post. I shouldn't have focused on myself/my wife more than Hamlin. I sincerely hope he is ok.
Buffalo Bills safety Damar Hamlin is no longer in a coma, awake and showing more signs of improvement.
Great news .I was in a coma for 8 weeks in 1993. Medical screw up in the OR. Long story but I was revived but loss of oxygen to the brain left life- long damage.
Pray that Hamilin has a full recovery.
He's able to grasp family members' hands now.