Game Notes are posted. Beat UC!
Chuck looks back at UMass and previews UC. Saturday is going to be a big challenge for our Oline. Also Nippert is going to be rocking I'm sure.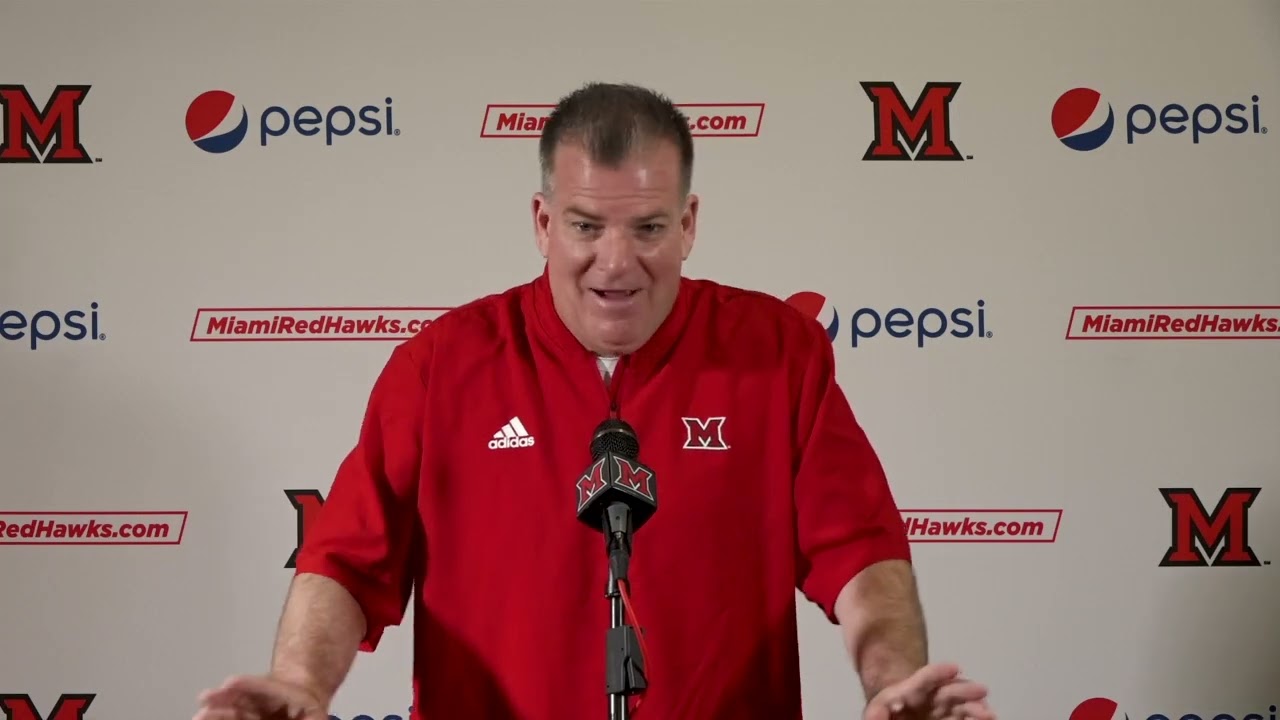 Last time we won at Nippert? The Hootenanny game (it really should also be called the Milt Bowen game since he saved us twice in that 4th quarter) way back in 2002. Damn that was a long time ago.
"Miami Of Ohio" reference around the 8:05 mark.
No criticism here. It's still Miami.
Beat UC.
I really want to beat UC. I am tired of the gloating from the UC friends every year. I went to UC for post-graduate work, but I will always be first and foremost a Miami fan.
Maybe coach should lose the sweatervest, might be cooler?
Wow, really…ouch.
PS, Chuck it's been a long time since you've been as ND
PPS, How many touches has Kevin Davis had? Not much it seems…hope to see that change.
Watched Satterfield's presser. They're going to throw a tarp over Gage on Saturday. And they plan to pressure Brett out of the pocket. Plus they're well aware of Amos, too. Sure hope we've got some other ideas about how to move the ball than what we used against UMass last Saturday (and Sunday).
Throw the ball to some other players - done.
Hope we can protect.
To me this game will all come down to how many times UC gets to pick at recess before we do. If we can keep that down to maybe the first 20-25 picks, then we might have a chance. If UC gets more than the first 50 picks, I think it will be a long miserable game.
Is this Yellow's alter ego?
PS - well done
Well there goes Chuck's playbook!!


Ditto - I'm a UC grad school grad as well and I hate how their fans rub this in. We just need to win this!
My wife and I are Miami seaon ticket holders. Our neighbors are UC seaon ticket holders. We have been taking each other to our respective home games for 20 years.
The good people next door have gone from good natured smack talk to what I can only call pity. God I want to win.
Utilize TE, get Javon Tracy more involved on slants, bang 8's, basically quick hitters. Three step drop and bang. Wheel routes to RBs out of the backfield. Protect Brett!! Use the aggressiveness against them.
I love the idea of using our TEs and RBs more in the passing game. But, with the exception of screens, that requires that the 5 guys on the Oline be able to provide Brett time without any help. That is a lot to ask against quality opponents.
Speaking of TE's. Luke Bolden kind of hobbled off the field at one time on Saturday. Did anyone notice if he came back in?
Chuck mentioned him in his Monday presser…kind of implied he didn't think it was extremely serious.
I hope it is as the prophesy suggests when my alter ego shows up, we beat UC! Oh thank goodness this day has arrived.