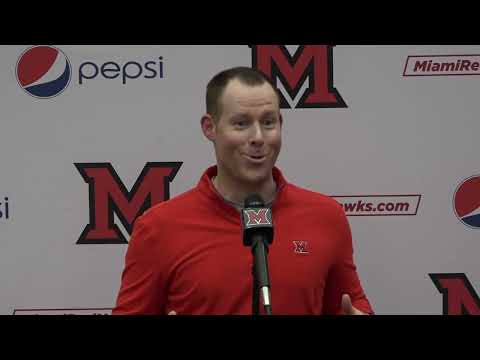 Not sure the last time multiple people attended one of our post game conferences. Maybe when we hosted Cincy?
Everything sounds good here, love the take on the D and not stopping the ball…and everything else, also snuck in that he's "pushing" Anderson to get to 285-290 range it would seem ("we'll get him under 300 at some point").
Anderson could be somewhat unstoppable at that weight in MAC.
Coach sometimes reminds me of Ted Lasso (his ability to go from serious to casual) without missing a beat. It's my highest compliment as I can't get enough of Ted Lasso. He's very charismatic. I love it!
His comments on Kamari Williams are exciting. If we had the current roster with both Lewis and Safford healthy, I think we beat Georgia. I think just from the experience, we'd beat Evansville with the same team we played them with.
But add a top end wing/forward like Kamari, and I think we could be a tough out in conference play.