My tv shows then wearing blue
I don't know how this game will end, but so far Championship Week has been amazing.
I guess they're selling beer at the Wagner-Bryant game.
Black jerseys.
I don't know why, but they have black out nights (boy, the marketing people didn't really give that a second thought of using that phrase) and they wear those uniforms. They look good
This is the Raiders 3rd NCAA Tournament since 2007
I thought I've noticed them wearing black with white numerals.
They are a well coached team with very coachable players
Remember when we used to count Orville/Wilber University as an automatic win? Pepperidge Farms remembers.
They leap frogged us with a solid coaching staff.
Remember when we had a solid coaching staff?
Pepperidge Farms remembers.
When was that? Even in the Coles years we seemed to beat them more often than not, but it didn't feel like we dominated.
Remember when Miami and Wright State both qualified for the NCAA Tournament in 2007? Wright State is on their 2nd trip since then and played in numerous Horizon League title games. Miami is the smoldering remnants of a basketball program.
I would say Wright State (and NKU) are better programs than us currently- but it is important to also consider that the Horizon league really sucks nowadays.
In the Coles era the Horizon League and MAC would have similar ratings- but I think the Horizon league is now a league in the 20's. Wright State net ranking is barely in the top 200 and they will likely be a 15-16 seed
As an edit currently Joe Lunardi has them as a 16 seed in the opening round game (the play in)
I'm expecting Wright State to be in the play-in game at UD Arena. I already talked to a few friends about getting tickets.
Talk all the smack about how bad the Horizon League is, etc. Wright State is adding an 2022 NCAA Tournament banner to the rafters.
Our last tourney was the CBG. Or was it CBI.
Either way, I doubt we put a banner up celebrating it.
You are correct we dont have banners displaying our CBI appearances
And I would rather be going to the tournament as a 16 seed then going 14-18
Still the Horizon league has really taken a dump in the last 10 years- losing their best programs. I think Cleveland State lost by 30 last year in the first round
Yup…and would whip the JackO's 8 out of 10, if they played.
Heck last time the Raiders may have won by 30…so I don't care about the conference, Miami is battling it out with Youngstown St., as worst bball program in Ohio and maybe area.
Will have to see what the Penguins have been up to?
EDIT****************

Crap the Penguins are more competent than Miami, eff'n Sayler!
Good news is, I had a voodoo curse put on all the teams in the tourney to play in opposite to how they have played all year. Thus, we are heading to the dance!
We beat them in both the 2018 and 2019 seasons. They won the Horizon both years.
The Horizon can be garbage and we can be jealous of WSU in the same breath.
8 out of 10…still looks good then

?
2017/2018…2017 was in OT (eeked by both times)…I was close though, we are 4 and 6 (4 out 10, not 2) versus WSU, but given on a 3 games losing streak and last game was a loss by nearly 30, they are Horizon champs and we are a 7th place MAC team…the 8 out of 10 looks pretty reasonable…you want to go double or nothing on Bellarmine futures?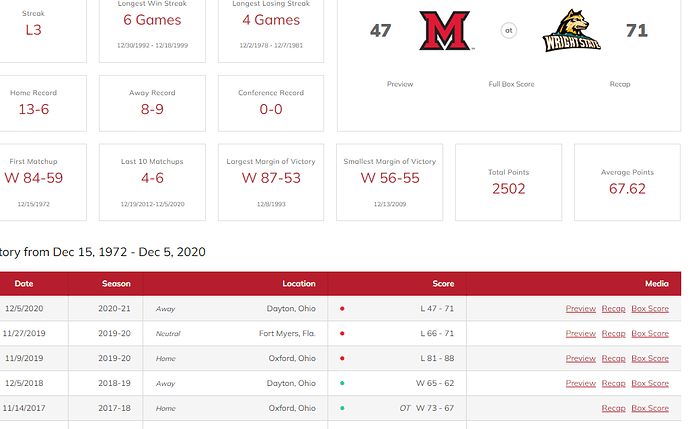 Horizon may suck, but Miami maybe moves up one spot if there was a conference transfer, maybe we are 6th in that league.