Former OU star Brandon Hunter has died at 42. Cause of death unknown at this time.
Man, that is rough…guy was dominant in the MAC…seemed to have a big personality.
Tragic.
Baby Shaq. Was amazing to watch in the MAC. Cheered him on when he wasn't playing MU.
Met Brandon once years ago. He had a great personality and loved OU/the MAC.
Prayers to his family and friends. That's way too young to go…
A friend of mine growing up lived next door to him in the dorm at OU. Said he was a fantastic guy. RIP, far too young.
Wow, very sad. Only a few years older than me.
I didn't realize he was that young … I thought the Shaq of the MAC was a 90s-era OU guy. Anyhoo, either way that sucks.
Yeah, Gary Trent was the Shaq of the MAC.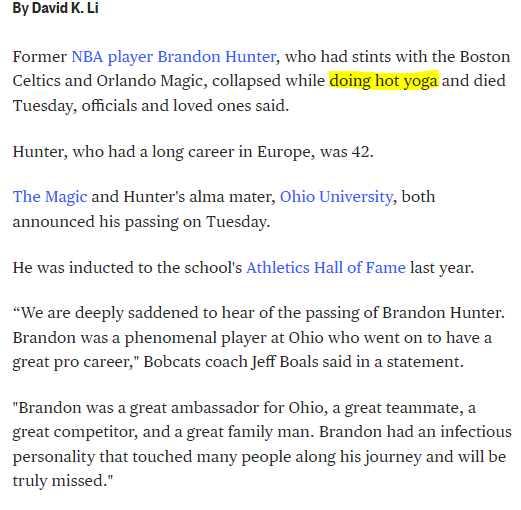 If lost his fitness and jumped into hot yoga (updated: says he did it on regular basis), maybe triggered cardiac issue…an X player (PF), Hunter? just had an undisclosed heart issue/episode and will not play this year. Heart disease or underlying heart conditions (Lebron's son) in athletes current and former seem on uptick, but maybe just numbers game and reporting.
I remember talking to and seeing Brandon at the Summer Leagues back in the day and Miami games of course (also a UC game, they may have won)…just a beast of a kid, with big smile…seems like all the articles reiterate that, very sad.
He was a sports agent for oversees players, wife, kids, etc.
"Hot yoga is one type of yoga that evolved from traditional yoga. It's performed in heated rooms where the temperature is usually between 85 and 105 degrees Fahrenheit.
However, despite its many benefits, hot yoga is not right for everyone. Pregnant people and those with certain medical conditions should not participate in hot yoga."
Admittedly, I never heard of this type of yoga.
Underlying heart conditions seem especially prevalent in African Americans. I'm only speculating that was the cause here, but seem to be hearing this a lot nowadays
Ahhh, that's right. Gary Trent. I'm guessing he's still alive?
He is, and his son plays for the Raptors.
…and is pretty darn good.
Sad. Loved watching him play in college. An absolute beast of a player.